The Instrumental and Vocal Program provides students an opportunity to participate in the Concert Choir, Select Ensemble, Worship Team, Concert Band and Pep Band. Students also have the opportunity to audition and participate in All-State Choir and Band. Music students meeting specified criteria have the opportunity to be inducted into the RLCA chapter of Tri-M Music Honor Society. RLCA participates in the ACSI Fine Arts festival, held each year. Outstanding junior or senior students may be nominated and selected to attend the Delaware Governor's School For Excellence held each summer at The University of Delaware.
Our music students are exposed to a wide variety of music genres, including spirituals, contemporary, and classical selections. Students learn the history of musical pieces, theory of music, and the technical proficiency of performing the selections. RLCA's music program is designed to inspire music participation, expose students to music theory, create enthusiasm for musical scholarship, and encourage technical proficiency.
RLCA's School of Performing Arts offers private lessons in voice, piano, organ, strings, wind and brass instruments as well as group dance classes. Our team of qualified teachers provides excellent training which is tailored to each student. We continually strive to encourage each to child to glorify God through the talents He has given them and help each student realize his/her full potential. Though the majority of our students attend RLCA or GCA, all members of the community are welcome to participate in this program.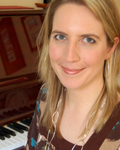 Stephanie Ferguson (piano, theory)
Stephanie graduated summa cum laude from the University of Delaware with a Bachelor of Arts in Music and a Bachelor of Science in Business Administration. She has spent the last 25 years teaching piano and general music both privately and in classroom settings, and this is her fifth year coordinating the School of Performing Arts at Reach Schools. Stephanie has also worked at RLCA as the elementary music teacher, Upper School choir accompanist, and After School Choir director. Her private students consistently earn top ratings in Delaware State Music Teachers Association festivals, and many have decided to pursue music in college and as a career.
Stephanie will be giving lessons on Tuesday and Thursday at the Summit Bridge Road campus, home to Glasgow Christian Academy. To contact her, email her at or call 302-528-5008.


Francesca DiGiacomo (violin, viola)
Francesca is a Suzuki violin and viola teacher and has completed the Suzuki teacher trainer classes for books 1 and 2 as well as their Every Child Can course. In the past she has enjoyed being a Concert Master with the Delaware Youth Symphony Orchestra as well as playing with her string quartet. She is currently continuing her own personal training with Ms. Barbara Gavotas of the Philadelphia Orchestra.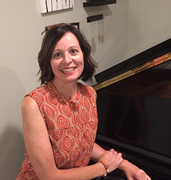 Shelly Pritt (piano)
Shelly earned her Bachelor of Music in Piano Pedagogy and Masters of Music in Piano Performance from Bob Jones University. She has taught private and group lessons to all ages for over 20 years. She has served on the board of a local chapter in the National Guild of Piano Teachers, and has judged the auditions for the American Association of Musicians. She derives much joy from serving as pianist in her local church. To schedule lessons with Shelly, please contact her at , or check our her website at www.shellyspianostudio.com.
Brianna Thompson (private and group dance instruction)
Brianna started dancing at the age of three and found her life's passion. She enjoys sharing her love for dancing with children through teaching and continuing to perform. As a competitive dancer, Brianna has received many awards and national titles in both group dances and solos. During her competitive years she began assistant teaching in classes at the age of fourteen and became a head instructor with classes of her own at the age of seventeen. With yearly training courses from several different locations ranging from New York City, Philadelphia and more, Brianna is certified to teach ballet, tap, jazz, contemporary, lyrical, modern, contortion, tumbling, and more! Brianna continues to teach classes ages 2 ½ through adult at Encore Dance Academy and dances professionally with Eclipse Performing Dance Company out of Baltimore. She is very excited to share her passion for dance with Reach Christian Schools again this year!
Becky Wooler (flute, piano)
Rebecca Wooler received both her Bachelor's and Master's degrees from the University of Delaware, studying Music Performance with a concentration in flute. During her time there, she won several local competitions, such as the Newark Symphony Orchestra's Youth Concerto Competition, and UD's Concerto and Aria competition. She was also a runner-up in the Eastern Division of MENC's Young Artist Competition in 2005. Since graduating, she has continued performing with various local ensembles and as a freelance musician. She has taught music at the Hockessin Montessori School and Glasgow Christian Academy, has taught private flute lessons for the University of Delaware's Community Music School and the Music School of Delaware, and is the flute instructor for the University of Delaware's summer middle school band camp. She has also been teaching the flute privately since 2000. Her goals for her students are to work with them to accommodate their own musical interests, while still teaching them the techniques and musical principles needed to succeed at whatever their own personal goals are, whether in auditions or playing for their own personal enjoyment.